Merchandise
We offer a wide range of merchandise, from beautiful memorial products to unique urns. If you have any questions about the items you see below, please feel free to get in touch with us. To make a purchase from our website to be picked up at our Huron location, please visit our Online Planner and select "Merchandise Only" in Step 2. You may call us to request personalization engraving.

You may also visit our retail store partner, The Remembrance Center located in Sandusky, Ohio, to see a lovely selection of available merchandise and keepsakes. We work directly with The Remembrance Center, and you even have the option pick up your pet's cremated remains from them when cremation is complete.

SELECT FROM THE CATEGORIES BELOW TO VIEW OUR WIDE RANGE OF PRODUCTS
Foam Paw with name and Fur Locket
Urn ~ Sweet Memories Of You
This pet urn and marker is made of cement and includes gemstones as well as the heartwarming sentiment "Sweet memories of you fill my heart forever faithful friend.".

7" x 8" x 6 1/4"
Price: $43.95
Urn ~ Cat Prints On My Heart
The Forever Loved Urn collection has rich walnut finishes with intricate detailing. Sentiment includes "Cat Prints On My Heart. You came into my life one day, so beautiful & smart. My dear and sweet companion, I loved you from the start. You'll never be forgotten you left paw prints on my heart." Space to add cat's name and date, as well as a wallet photo. Replace artwork with a 5 x 7 inch photo of loved one.

Urn holds 90 cubic inches of ashes. Directions for using and securing urn included.
Price: $52.95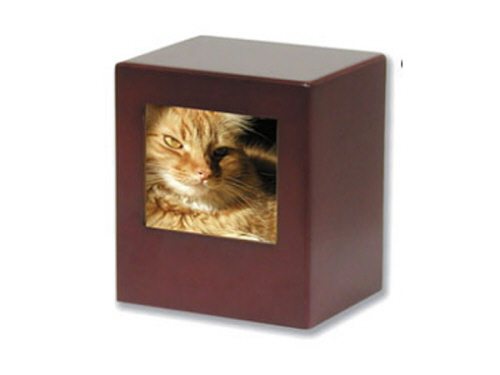 Pet Urn ~ Cherry Cube with Photo
Wood urn in cherry finish. Includes 3" x 3 1/2" photo opening.

**Option engraving of paw print, names and dates available. Additional charge per side of engraving.**

6" H x 5.3" W x 4.3" D, 75 C.I.
Price: $59.95
Urn ~ Cats Leave Paw Prints
Our Cat Paw Paw Prints Rock Urn will allow you to pay tribute to your beloved companion with sweet paw prints and a touching sentiment. The Urn has the look of a natural rock and can be customized by using the 3" x 2" area for you to place a photograph.
Holds 55 cubic inches
Urn is 9" x 6" x 5"
Made of high quality resin stone
Price: $59.95
Urn ~ Dogs Leave Paw Prints
Our Dog Paw Prints Memory Box offers you a way to pay a personal and loving tribute to your trusted companion. This finely detailed Urn features an inscribed sentiment, adorable paw prints on the lid and a connecting celtic knot border around the edges of the box. You may customize this Urn with a 2 x 2 1/2" photograph.
Holds 85 cubic inches
Urn is 5 1/4" x 5 1/4" x 5 3/4"
Made of high quality resin stone
Price: $59.95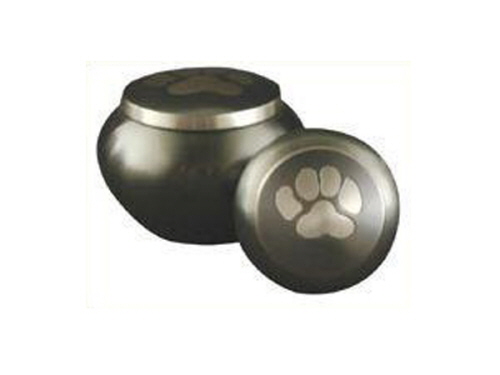 Pet Urn ~ Odyssey Slate Paw Print
This brass pet urn is made of brass with a beautiful slate/pewter finish. Includes a single paw print electroplated on top.

Dimensions: Small 4.3" x 3.3", 25 c.i.

**Engraving on this urn is available. Please contact us prior to purchase for additional information."
Price: $69.95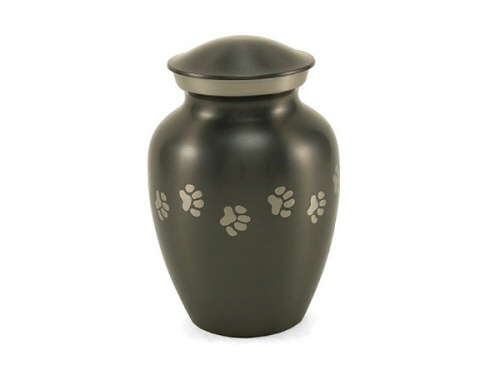 Pet Urn ~ Slate Paw Tracks
A metal urn is not only a perfect choice for both traditional and non-traditional tastes, but is also a perfect choice because of its timelessness and durability. This brass pet urn is made of brass with a beautiful slate/pewter finish. Includes paw print tracks around urn.

Dimensions:
Extra-Small: 5.7" x 3.9" 40 c.i.



Price: $69.95